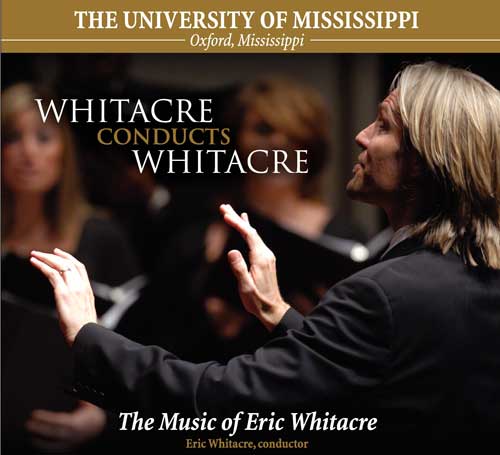 Whitacre Conducts Whitacre
Order now while supplies last!
There is no recording like it…
The University of Mississippi Department of Music offers a unique opportunity to experience Eric Whitacre's music as he conducts the University of Mississippi Concert Singers, Men's Glee, Women's Glee, University Chorus, and Symphonic Band in cooperation with rehearsal conductors Bill DeJournett, Debra Spurgeon, and Donald Trott.
This project was the result of a two-day campus visit in April 2007 with Eric Whitacre including rehearsal time, a recording session, Q&A with students, and culminating in a concert for the public. This recording is a mixture of live and recording session performances.
Recordings Include:
With a Lily in Your Hand
This Marriage
Sleep
Animal Crackers
Lux Aurumque
She Weeps Over Rahoon
Five Hebrew Love Songs
Ghost Train: The Ride
Cloudburst